S3-AD AC CURRENT TRANSDUCER
Power transducer
S3,N3 series power Transducer
Model: Accuracy: ± 0.2% RO S3-AD-1 : 1φinput (AVG.) S3-AD-3: 3φinput (AVG.) S3-AD-1T: 1φinput (TRMS) Accuracy: ± 0.5% RO N3-AD-1 : 1φinput (AVG.) N3-AD-3: 3φinput (AVG.) N3-AD-1T : 1φinput (TRMS)
Related Products
1.FEATURES
◆Excellent long term stability (4 ~ 20mA, 500Ω);
◆Precision measurement even for distorted wave (S3-AD-1T);
◆High impulse & surge protection (5KV);
◆The case can be mounted on a 35mm rail which complies with DIN 46277;
2.Introduction:
2.1 Sinusoidal
Waveforms
-
AVG.
S3-AD Series Transducer converting a sinusoidal alternating current
into a dc output, proportional to the RMS value of input. These units are average sensing, but RMS calibrated for a sine wave with less than 1% distortion. The input signal is converted to a dc voltage which then feeds to a single stage amplifier and a dc output produced.
2.2 Non-Sinusoidal Waveforms
-
TRMS
S3-AD-1T ,N3-AD-1T Transducer are designed for use on waveforms with up to 30% of 3rd harmonic content. The input signal is fed to an RMS detection circuit and the resultant dc volts produced are a linear function of the RMS value of input waveform. This dc voltage is converted to a milliamp output via an output amlification circuit.
3.Specification:
Aux. power supply

AC 110V ± 15%, 50/60HZ

AC 220V ± 15%, 50/60HZ

DC24V, 48V, 110V, ± 15%

Power consumption

-2.5VA, ≤DC 3W

Power effect

≤0.1% RO

Waveform effect

≤0.2% RO. at distortion factor 30%( PCIR)

Output load effect

≤0.05% RO.

Magnetic field strength

-0.2% RO., 400A/M

Span adjustment range

5%RO

Zero adjustment range

1%RO

Operating temperature range

0 ~ 60℃

Operating temperature range

0 ~ 60℃

Storage temperature range

-10 ~ 70℃

Temperature coefficient

- 100PPM from 0 to 60℃

≤ 60PPM, 25。C ± 10℃

Max. relative humidity

95%

Isolation

Input/output/power/case

Insulation resistance

100M W, DC 500V

Dielectric withstand voltage

Between input/output/power/case

(IEC 414, 688,ANSI, C37) AC 2.6KV, 60HZ, 1 min.

Impulse withstand test

5KV, 1.2 X 50μS

(IEC 255-4, ANSI C37 90a) Common mode & differential mod

<!, --, --, tr---->

Performance

Designed to comply with IEC688

Safety requirements

IEC 414, BS5458
4.1
S3-AD-1, S3-AD-1T
:
N
3-AD-1,
N
3-AD-1T
: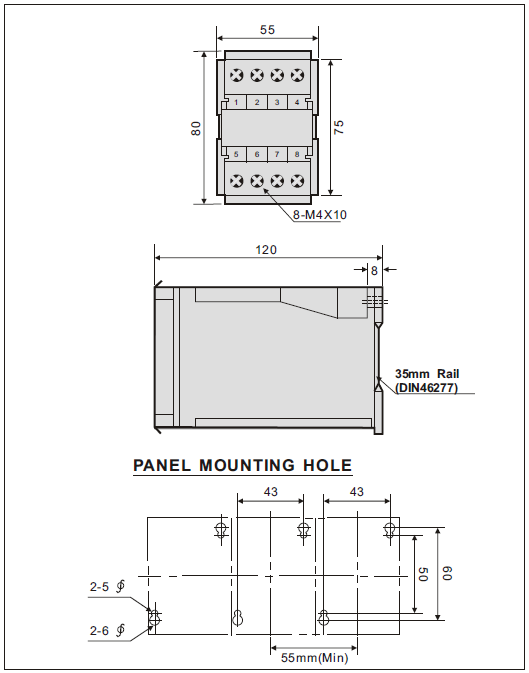 4.2 S3-AD-3,
N3-AD-3: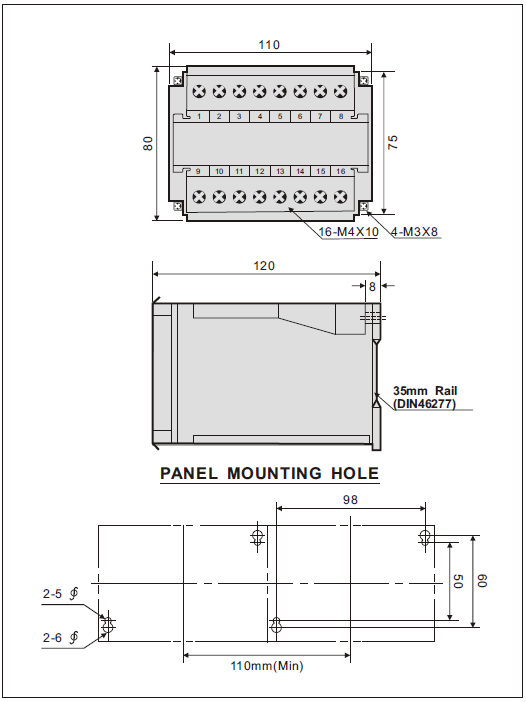 5.Trminal Connection:
5.1 S3-AD-1, S3-AD-1T,N3-AD-1,N3-AD-1T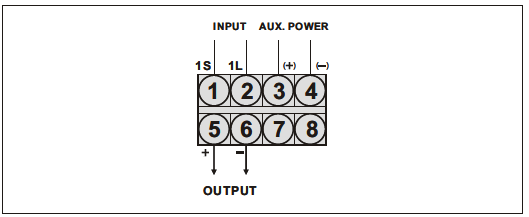 5.2 S3-AD-3,N3-AD-3: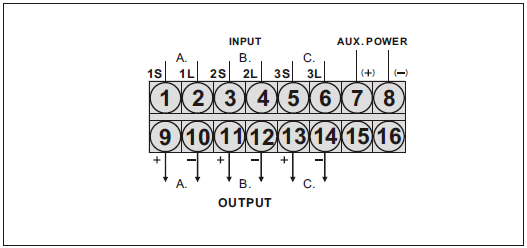 1.Order form: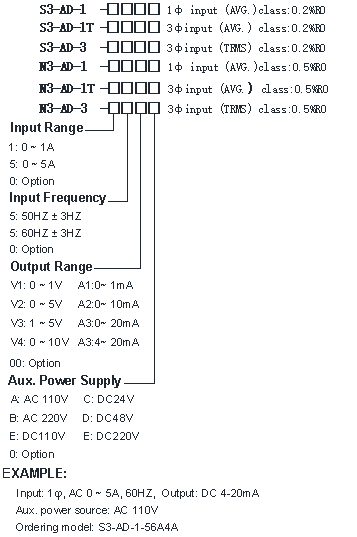 ◆INPUT:
Input Range

Input Burden

Input Frequency

Max. Input Over capability

0 ~ 1A

≤0.1VA

50Hz ± 3Hz

or 60Hz ± 3Hz

3 X rated continuous 10 X rated 10 sec.

50 X rated 1 sec.

0 ~ 5A
◆OUTPUT:
DC Output Range

Load

Resistance

Output Resistance

Output Ripple

Response Time

0 ~ 1V

1KW

<-0.05W

≤ 0.5% RO.

(Peak)

≤400mS. 0 ~ 99%

0 ~ 5V

1 ~ 5V

0 ~ 10V

0 ~ 1mA

0 ~ 10KW

20MW

0 ~ 10mA

0 ~ 1KW

5MW

0 ~ 20mA

0 ~ 500 W

4 ~ 20mA